Classic BUDGETWORKS

- How BUDGETWORKS Began

For Operating Engineers

"I was going to be $300 over budget today, but then I..."
[and he named three HVAC systems he was able to shut off.]
"...a
nd now I'm on target!
" said John, the operations engineer at the local high school.

He was experiencing what

BUDGETWORKS

could do. BUDGETWORKS set a target and John was doing his best to get his building's energy use down to that level.

Working with facilities engineers,

BUDGETWORKS

s can be configured to meet your energy use target -- from achievable yet reasonable, to highly efficient. It's your
choice.

With

BUDGETWORKS

, inefficiencies are identified almost as soon as they appear. Budgets flex with conditions. They are sensitive to the time of day, the day of
week, the outside temperature. [For industry, budgets can even can flex with actual manufacturing loads.]



BUDGETWORKS

helps operating engineers to do what is expected of them.


BUDGETWORKS

compliance can be included in an operating engineer's goals.


For Building Managers



BUDGETWORKS

began with a problem.

The facility manager for a large public facility was paying excessive energy bills due to poor operating practices. Yet he had no control over how the operators ran the building.

"How much energy

should

this building use?" he asked.

The answer to that question was a system that came to be known as

BUDGETWORKS

.

BUDGETWORKS

included the variables that influenced the answer (i.e. weather, occupancy, and the day of the week).

By comparing how much energy the building

should

use with how much energy it actually

did

use, the manager was able to identify and change improper operations practices.



BUDGETWORKS

is a manager's tool to aid in efficient building operation.

Learn More

For more information on how

BUDGETWORKS

can help reduce energy use in your building, click
here
.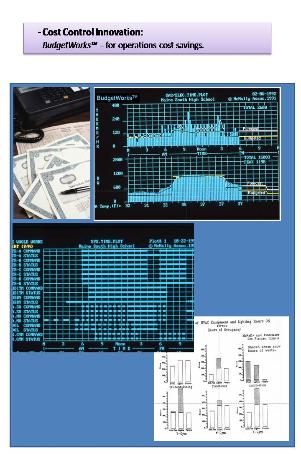 BUDGETWORKSTM , On-TargetTM, and Run-RightTM are trademarks of McNally Engineers, Ltd.
© 2007-2017 McNally Engineers, Ltd. All rights reserved.

<!contentend>